Enjoy fantastic PIZZA D'OH! food and drink at home
PIZZA D'OH! is working hard behind the scenes to ensure our valued customers still have access to our delicious meals during this extraordinary time.
We've upped the ante on our takeaway menu to include freshly made freeze and reheat meals and will soon be introducing par cooked, cyrovacced pizzas that you simply heat up when you get home.
Take advantage of our takeaway and call your order through for pick up on your way home or ring us and arrange home delivery to your door.
If you're a member of our D'OH Dollars Loyalty Club, we'll deliver for free within the Rye, Blairgowrie, Sorrento and Portsea areas (be sure to sign up if you're not).
TAKEAWAY OR DELIVER - WINE OR BEER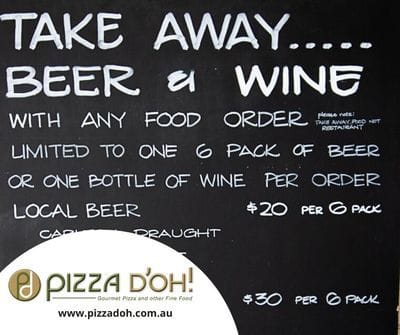 Did you know you can also enjoy a bottle of wine or a six pack of beer when you order takeaway or home delivery? Check out what we've got available via our Takeaway Drinks menu.
Rest assured Andrew and the team are doing everything they can to get us all to the other side of this testing time...we're in it together.