TAKEAWAY AND HOME DELIVERY MENU
TRADITIONAL PIZZA
S L F
GARLIC - crushed garlic, mozzarella, oregano 9.50 13.50 22.00
MARGHERITA - sugo, mozzarella, fresh basil 13.50 17.50 22.00
NAPOLITANA - sugo, fresh tomato, olives, anchovy, mozzarella 14.50 23.00 29.00
CAPRICCIOSA - sugo, ham, mushrooms, olives, anchovy, mozzarella 16.50 24.50 33.00
VEGETARIAN - sugo, mozzarella, onion, mushroom, olives, capsicum 14.00 18.00 27.00
HAWAIIAN - sugo, mozzarella, ham, pineapple 15.50 21.00 29.50
MEXICANA - sugo, mozzarella, calabrese salami, roasted capsicum 14.00 20.00 29.50
OZ - sugo, mozzarella, ham, bacon, egg 16.50 21.50 30.50
CHICKEN - sugo, mozzarella, roast chicken, mushrooms 16.50 21.50 30.50
SUPER LOT - everything! No seafood. 17.00 26.00 33.50
MARINARA MIX - sugo, mozzarella, traditional marina mix, garlic 15.50 21.50 30.00
MEAT LOVERS - sugo, mozzarella, ham, salami, roast chicken, bacon, onion 17.50 26.00 33.50
TUSCAN - fresh tomato, bocconcini, basil pesto 15.50 21.50 32.50
BLAIRGOWRIE SPECIAL - sugo, mozzarella, salami, roasted peppers 15.50 24.50 31.00
mushrooms, olives

GOURMET PIZZA
GIOVANNI - mozzarella, potato, caramelized onion, gorgonzola, evoo 15.00 21.00 30.00
ROBERTO'S - mozzarella, prosciutto, pumpkin, rocket, feta, pinenuts 18.50 27.50 33.50
QUATTRO FORMAGGI - sugo, provolone, ricotta, gorgonzola, parmesan 17.50 27.50 33.50
TURKISH LAMB - spiced minced lamb, eggplant, onion, feta 18.50 27.50 33.50
CHILLI PRAWN - chilli prawn tail, capsicum, cherry tomato 21.50 33.00 39.00
BEETROOT - fresh beetroot, dried chilli, walnuts, onion, feta 16.50 26.50 32.50
STEFANO'S DUCK - roast duck, leek, mushroom, chilli, hoisin sauce, coriander 19.50 30.00 36.00
SMOKED SALMON - fresh tomato, capers, Spanish onion, smoked salmon, 20.50 31.00 37.00
dill, sour cream
FISHERMANS - sugo, prawn cutlets, scallops, fresh fish fillets, spring onion, 20.50 31.00 39.00
garlic, lemon, fresh basil and feta
PROVENCALE - sugo, Mozzarella, roasted vegetables, eta, basil pesto 18.50 27.00 36.00
ITALIAN SAUSAGE - pork and fennel sausage, onions, provolone 20.50 24.50 33.50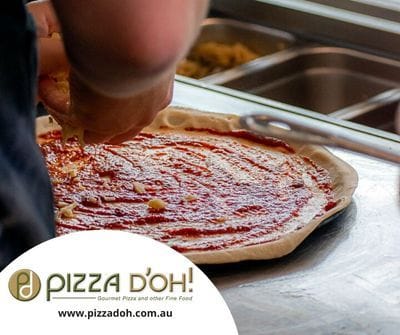 ---
PASTA
YOUR CHOICE OF FETTUCINE, SPAGHETTI, PENNE OR DINO'S GNOCCHI
BOLOGNAISE - house made beef, pork and tomato sauce 19.50
NAPOLI - tomato sugo and fresh basil 18.50
CARBONARA - bacon, garlic, cream, egg, parmesan and parsley 23.00
AMATRICANA - bacon, garlic, chilli, tomato, spring onion 23.00
MARINARA - fresh seafood, evoo, garlic, wine, parsley 32.00
SALMONE - smoked salmon, capers, wine, cream , spring onions 24.00
SPINACH AND RICOTTA CANNELONI - with Napoli sauce 22.00
VEAL MEAT BALLS - house made in rich tomato sauce with Dino's gnocchi 23.50
LASAGNA 22.00
---
HOT FOOD COOKED TO ORDER
Garlic bread (3pc) ciabatta with garlic herb and mustard butter 6.00
Saffron arancini with aioli (3 pieces) 10.00
Local bay calamari with rocket and lemon small 18.00 large 28.00
Local bay scallops baked with garlic butter, herb crumbs and parmesan 12.50 (4 per serve)
Local black mussels in garlic, chilli and tomato 28.00
Fresh local whiting in beer batter with chips and salad 28.00
Pizza oven grilled flounder with sea salt, olive oil, garden salad & chips 32.00
Prawns Claypot...Prawn tails (8) cooked with tomato, garlic, a hint of chilli 26.00
topped with fetta and pesto; with a pizza bread
Crumbed veal scallopini with chips and salad 28.00
Chicken Parmagiana - topped with ham, tomato, provolone and bocconcini 28.00
with chips and salad
Grilled 300gm porterhouse steak with chips and salad 30.00
Risotto of the day (please ask for today's flavour) 18.00
Chips 6.00
---
FRESHLY COOKED, READY TO FREEZE OR REHEAT
The following cold, fully cooked and ready to reheat or freeze can be home delivered or collected.
They are freshly prepared so you can stock up the freezer and have delicious meals ready to go (forget the supermarket).
MINESTRONE SOUP
9 vegetables and cannelini beans in Andrew's famous minestrone sm $6.00 Large 10.00
CHICKEN CACCIATORE (an old family recipe)
Chicken braised with vermouth, mushroom, tomato, pancetta and celery.
Great with a side of mash and a salad 22.00

LAMB SHANKS
Slowly braised shanks with rosemary, garlic and tomato.
Served off the bone. Great with a side of mash and some green vegs (2 shanks) 24.00

BEEF RIBS AND TOMATO CASSEROLE
beef ribs slow cooked with red wine, garlic, tomato and rosemary 24.00

VEGETARIAN LASAGNA
Pumpkin, eggplant, spinach and ricotta lasagna with Napoli sauce 20.00

SIDES (small 5.00, serves 2 and large 9.00 serves 4)
Mashed potato
Green vegetables
Garden salad
Rocket and parmesan salad

SAUCES READY TO HEAT AND EAT (small $6 and large $10)
Bolognaise - beef, pork, onion, tomato
Napoli - Italian crushed tomato, garlic, wine, basil
Amatriciana - Bacon, garlic, chilli, tomato, spring onion
PRE COOKED PASTA AVAILABLE (small $5 and large 10)
---
DESSERTS
Chocolate mousse - homemade rich dark chocolate mouse with a hint of coffee 9.00 (small) 14.00 (large)
Andrew's decadent Tiramisu, that italian classic with a bit of extra kick 14.00
Steamed pudding (it changes so please ask for today's flavour) 9.00

LIMITED SUPER SPECIAL
Peaches from Andrew's tree, baked with syrup and topped with Red Hill 7.00
strawberry compote
---
DAILY SPECIALS..
SIGN UP TO OUR DOH$ LOYALTY CLUB AND RECEIVE OUR DAILY SPECIALS SENT TO YOUR INBOX EVERY DAY
DO YOU NEED A DELIVERED MEAL PLAN? WE CAN HELP. ALL ANDREW ON 0400332504